See also: How to append to an existing PDF and How to prepend to an existing PDF
using the Win2PDF Desktop App.
You can use the printing capability with a PDF Reader application to merge or combine two or more PDF files. Here is the general procedure to use if you wanted to combine "sample1.pdf" and "sample2.pdf" into a new document called "newsample.pdf":
1). Open the "sample2.pdf" file in Adobe Reader
2). Select 'Print' and choose a range of pages (if desired) and Win2PDF as the printer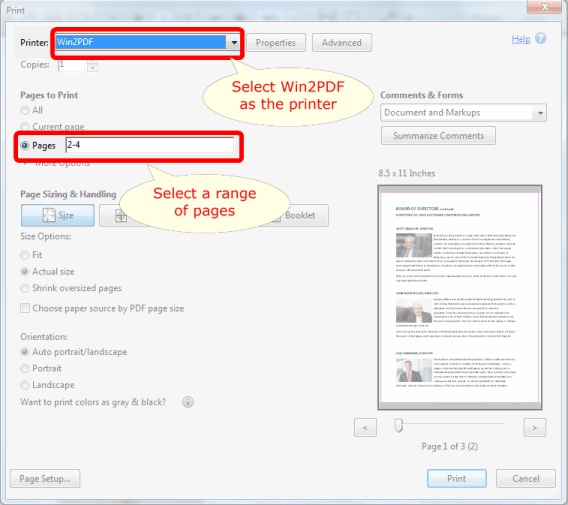 3). Save the results of this print and select the first file name -- "sample1.pdf"
4). When prompted, you can either append (add to the end) or prepend (add to the beginning) to merge your new pages with the first set of pages you printed. Select Append and choose the file name "newsample.pdf"
Using this technique, you can effectively combine both files -- "sample1.pdf" and "sample2.pdf" -- into a new PDF file called "newsample.pdf". The following video shows how this is done.