It is sometimes desirable to flatten PDF form fields and combine the form field layers into a single layer. This prevents active form fields from being modified, and can fix display problems when viewing filled forms on some PDF viewers.
The easiest way to flatten a PDF using Win2PDF is to open the PDF in a PDF viewer such as "Adobe Acrobat Reader DC" and print the PDF to the Win2PDF printer. You can choose either standard PDF, or PDF Image Only as the "Save As Type". The resulting PDF will be a flattened PDF that can be viewed in any PDF viewer.
After you print from a PDF viewer to Win2PDF, the resulting flattened PDF will no longer be searchable. If you want the flattened PDF to be searchable, you can download and install the "Win2PDF OCR Add-on" add-on and select "Portable Document Format - Searchable" as the Win2PDF "Save As Type".
You can also open the PDF file in the Win2PDF Desktop app, and choose "Export -> PDF Image Only -> Monochrome", "Export -> PDF Image Only -> Grayscale", or "Export -> PDF Image Only -> Color" you will be prompted to save as a flattened Image Only PDF file.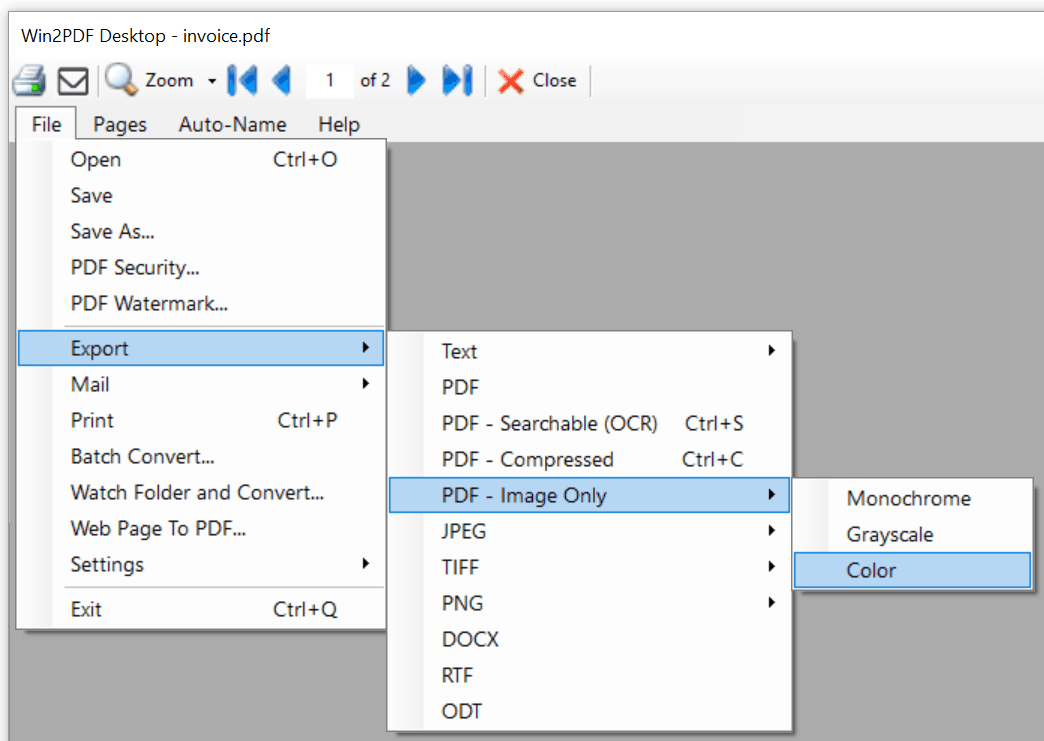 Win2PDF Desktop - Export PDF Image Only Menu
If you want to apply other PDF operations to the PDF such as appending an existing PDF or applying a watermark, you can use the "Flatten PDF Layers and Save as Image Only PDF" plug-in to flatten the PDF as the last step in the process.