Win2PDF has a feature to "Send file" that can be enabled on the file save window (see below).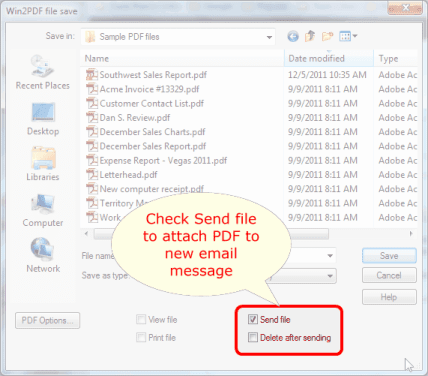 When this option is checked, Win2PDF will create the PDF file and automatically attach it to a new email message using the computer's default MAPI email client (which is typically Microsoft Outlook or Windows Live Mail).
If you do not use a full MAPI email client like Outlook and rely on web-based email, then there is still a way of using this feature using a third-party application.
We recommend a program called Affixa for users that want to use the "Send file" feature with a web-based email program like Gmail, Hotmail, Yahoo mail, or Microsoft Outlook Web Access. Affixa resides in the background and acts as a connector to these web-based email services. When you use the "Send file" feature in Win2PDF it automatically creates a web email message with the PDF attached.
More information on Affixa and its products can be found at www.affixa.com